Best Camping Spots NSW Australia 2022 Guide
If you're looking for the best camping spots NSW has to offer, look no further! We've put together a comprehensive guide to the best camp spots in the state, so you can find the perfect place to pitch your tent or park your campervan.
Skip ahead to our top picks:
Top Coastline Camp Spots
Top Bushland Camping Spots
Top Riverside Camping Spots
Best Camping Spots NSW: Coastline Camp Spots
The coastline of NSW is dotted with beautiful camp spots, perfect for a relaxing break or an adventure-filled vacation. From secluded and beautiful beaches to towering cliffs, there's something for everyone along the coast.
Some of our favourite coastline camping spots in NSW include:
Honeymoon Bay
One of the most popular beach camping sites in NSW, the Honeymoon Bay Campground is tucked within the northern head of Jervis Bay. It's not a totally free camping spot because visitors aged 16 and above will have to pay a fee to set up camp here.
This remote campsite is designed for what you want to do on the beach, including lazing on the sand and safe swimming. Plus, it has stunning views of the ocean and nearby islands.
If you are feeling more adventurous, the Honeymoon Bay Campground offers you exciting opportunities for snorkelling and paddling, revealing to you some old wives, yellowtails, and garfish.
Being the rustic campground that it is, its facilities are limited to rubbish bins and portaloos. So, do make sure to bring your own camping gear, water, toilet paper, and other personal effects.
Remember also that the campsite is not pet friendly and that activities involving fires are not permitted.
Pebbly Beach Campground
If you want to experience the splendours of the Murramarang National Park, the Pebbly Beach Campground could be a great place to make your base.
It's a four-hour drive from Sydney, but it rewards you with the sight of kangaroos and has lots of space that's enough to accommodate up to 23 tents. Unlike other campsites in the area, this campground lets you enjoy tent camping and join other camper trailers in the area.
Though not a free campground, it is one of the NSW national parks that have a carpark area, barbecue, toilets, and showers to make your stay more comfortable and convenient.
Whether you are camping with a group or by yourself, there are tons of activities to enjoy, which are not just limited to swimming. You can go around the coastline on foot or conquer any of the treks in the area, including the Snake Bay and Durras Mountain walking tracks.
There are also opportunities for catching fish while imbibing the relaxing atmosphere and fresh sea breeze.
It's interesting to note that 4G phone reception is available here, but a 4G internet connection is not.
Depot Beach Campground
If you're looking for the best camping NSW has to offer, then look no further than Depot Beach Campground. Like the Pebbly Beach Campground, it is nestled within the Murramarang National Park and is perfect for an idyllic getaway.
You'll love its quieter environment that is close to Batemans Bay, making it perfect for fun water activities, such as swimming, standup paddling, kayaking, and snorkelling. And if you get lucky, you may even be able to spot a dolphin offshore.
The Depot Beach Campground is not only about the beach, as it also has walking trails nearby, including the Depot Beach Rainforest walk and the Rock Platform walk.
One of the best things about Depot Beach Campground is that it offers a range of different accommodation options, from campsites for those who want to experience tent camping to campsites that are suitable for campers who are bringing a caravan.
Moreover, it has amenities such as picnic tables, showers, electric power, toilets, and barbecue facilities.
Depending on your network provider, only 4G phone reception is available at the campsite.
Diamond Head Campground
The pride of Crowdy Bay National Park is the Diamond Head Campground, a paid campground fit for groups and solo travellers.
Featuring roaming kangaroos and stunning wildlife that complement the beauty of the beach, this amazing campsite can truly show you the immensely beautiful nature of NSW.
Aside from the lovely views of the waters that shimmer against the sun's rays, there are tons more things to do here in Diamond Head.
You can take a walk by following one or two of its hiking tracks, including the Diamond Head loop and the Mermaid Lookout track, which is a shorter walk.
Then, freshen up at the campsite using its sufficient facilities, featuring cold showers and toilets, before cooking up a delicious barbecue dinner.
There are dump points for caravans and camper trailers as well as rubbish bins to ensure that the camp stays spic and span. So, don't leave your trash anywhere.
In terms of phone reception, there are 3G and 4G connections available, depending on your network provider. However, 4G and 5G internet connections are not available in this area.
Sunburnt Beach Campground
The name itself just echoes beautiful waters and restful camping.
The Sunburnt Beach Campground, a free campsite in NSW, lets you go back to basics and experience the beauty and bounty of nature.
Here, you will experience true tranquillity and serenity, as you need to walk about 250 metres from the carpark to get to the free camp, which is nestled in the midst of tall trees.
Wake up to the sounds of birds chirping and leaves rustling, then take a short walk to the beach while admiring the breathtaking views of the sea along the coastline. The pristine waters will definitely invite you in for a refreshing dip before you even get a chance to pick up seashells on the shore.
If you want to try your luck fishing, you can do it on the beach and cook your catch back at the free camping spot. Otherwise, you can just sit back and enjoy the sea breeze while listening to the soothing sound of the waves.
Though a free camp site, the Sunburnt Beach Campground is equipped with picnic tables, toilets, and a carpark. However, you need to bring your own wood, drinking water, fuel stove, and cooking water.
Camping Spots NSW: Bushland Camping
The East Coast is not just all about beach camping, as it is also as much about bush camping, given all the bushland in NSW.
If you're looking to escape the hustle and bustle of city life, then head on over to one of NSW's bushland camp spots. The state is blessed with an array of different landscapes, from lush rainforests to rugged mountains, so you'll be spoilt for choice when it comes to finding the perfect camping spot and low-cost sites.
Depending on your network provider, phone reception may not be available. And that makes you really escape the hustle and bustle of the metropolis.
Uloola Falls Campground
Located within the Royal National Park, the Uloola Falls Campground offers opportunities for walking, biking, and hiking for a fee.
What makes this national park camping spot is that it is close to the city, yet it gives you a feeling of being far from civilisation. This makes the campground a great choice for those who love camping but want to stay near Sydney.
Remember to bring your hiking boots because you can access this camping spot either via the Karloo Walking Track or the Uloola Walking Track. Along the way, your eyes will be treated to a feast of sights courtesy of the wildflower displays, especially during springtime.
Once you get to the campground, set up your tent next to the Uloola Waterfalls. The sound of the water hitting the rock pool below is the only sound you will hear–be lulled by it.
Kingfisher Pool Campground
Head out to the Heathcote National Park and find one of NSW's great campsites in the bushlands–the Kingfisher Pool Campground.
From the name itself, the campground is situated some 50 metres above the Kingfisher Pool. This and the national park being vehicle-free make the site truly remote and perfect for getting away from it all.
Stretch your legs and get ready for a long walk along the Bullawarring Walking track, which will treat you to abundant wildlife.
Even though the Kingfisher Pool Campground is not among the free sites on the East Coast, you will need to be self-sufficient when you come here and bring your own toilet paper, fuel stove, and drinking water.
Make sure that you leave the place clean by taking everything back with you, including your trash, as there are no rubbish bins at the campsite.
With only a capacity of 18 campers, you are guaranteed a quiet and peaceful bushland camping experience.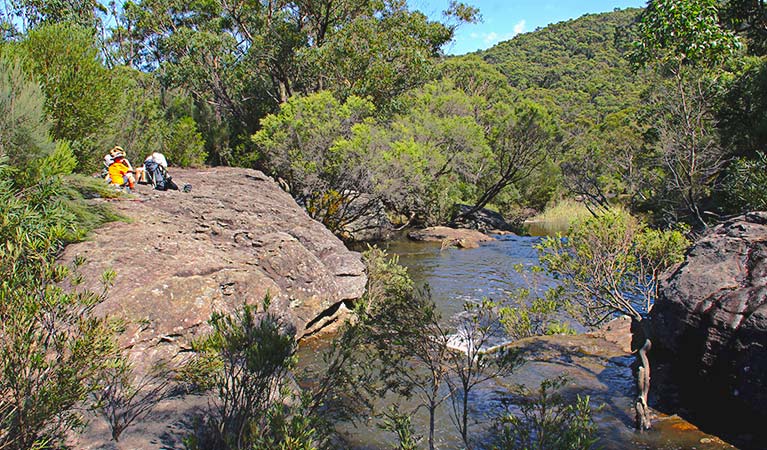 Gentlemans Halt Campground
Here's a very remote free camping site in NSW–the Gentlemans Halt Campground, which is situated in the Marramarra National Park's Hawkesbury River.
You can either take a 10-kilometre hike to the campground or ride a boat to get there. Whichever way you choose, you'll be pleased and relaxed at the sight of the river and some sandstone ridges.
Upon arriving, set up camp, then relax by the river while spotting bandicoots, lyrebirds, and eagles soaring in the sky. Make your camping the most comfortable it can be by bringing your own wood and cooking and drinking water. You can also make use of the campsite's toilets, picnic tables, and barbecue facilities.
Then, you can start exploring by water on a kayak or canoe. You'll be surprised by how this remote, free campsite is so blessed by nature.
Camping in NSW: Riverside Camping Spots
Check out these riverside camping sites for your next outdoor getaway.
Benarca Campground
With nine designated campgrounds in the Benarca Forest, a large 204-hectare area, you'll surely be able to find a good spot for a restful and relaxing weekend.
One of the free campsites in NSW, the Benarca Campground lulls you with the sounds of humming corellas and cicadas under the shade of the majestic river red gums of Australia. Whether you stay in your tent, caravan, or camper trailer, you will fall in love with the views of the Murray River, which is only a short walk from your campsite.
Even if you're travelling alone, you can still enjoy solitude when you take a walk along the river or bike at the Five Mile mountain bike trail. Then, get wet swimming, fishing, or paddling before going birdwatching nearby.
Since this free camping spot is pet friendly, you won't ever have to be alone when you do these exciting activities in the area.
Aside from bringing your tent, make sure to also have enough water for washing and drinking to make camping fun and comfortable.
Blue Gum Flat Campground
Here's another great free camp in NSW, situated within the Morton National Park.
It's an amazing free campsite for all sorts of campers, whether you are with family, friends, or by yourself. You'll be delighted to share the campgrounds with the wildlife that call this place their home, including the wombats and wallabies as well as other bird species.
Love bushwalking and birdwatching? This free camping spot also has tons of opportunities that are designed to keep you busy. Plus, you can feel refreshed after all these activities by taking a dip in the Clyde River.
Being a remote campsite, you are required to come prepared and self-sufficient, bringing with you your own water and wood.
Learn more about Blue Gum Flat Campground.
Long Gully Campground
Situated within the Budawang National Park is the Long Gully Campground, designed for more experienced travellers. With the Yadboro River right next to your grassy campground and blackbutt trees surrounding you, you'll definitely feel one with nature.
It is one of the free campgrounds in NSW national parks that lets you get away from it all, offering minimal facilities to make you go back to basics and reset your mood.
Aside from picnic tables, this free site also has pit toilets, which means that you need to be self-sufficient when you come here. Be ready with your own firewood, tent, and food, but you can fetch some water from the river and boil it for use.
Solo travellers who love to experience solitude will be able to get that here, as the only companions you will have are the wallabies and goannas. On some occasions, there will be bushwalkers around, but the peace and serenity definitely remain.
Camping NSW: What to Look for in a Camp?
Paid and free camping in NSW is a fun and popular activity. Do take note though that even 'free' campsites charge a booking fee of $6.
However, when you're looking for free camping sites or sites with a fee, there are a few things you should keep in mind. Consider comfort; see if it's a very remote campground; is it good for the big rigs; is it pet friendly?
Moreover, here are some elements to look for and consider when looking for a paid or free camp.
Toilets (drop toilets/flush toilets)
While most people don't mind using the great outdoors as their toilet, some appreciate the amenities that toilets provide. If this is something that's important to you, make sure to check whether the campground has these facilities before setting up camp.
Picnic tables
Picnic tables are a great way to enjoy your meals outdoors. If you plan on cooking at the campground, be sure to check whether these are available.
Access to water
While some campgrounds provide on-site water, others may only offer water for washing. Still, some others may even require you to bring your own water for washing and drinking. Make sure to check this in advance so that you can be prepared.
Dump points
Another important thing to look for in a free campsite is the campsite's dump points, especially if you're planning on staying at the campground for an extended period of time. These facilities allow you to empty your sewage tanks so that you don't have to leave the campground with a full tank.
Shower facilities
Before setting up camp, make sure that your free camping spot has shower facilities, especially if you're particular about it. Many free camps don't have hot and cold showers so be sure to check in advance.
Fire pits/grills
If you want to enjoy a campfire during your stay, make sure that the campground has fire pits or grills. Many campsites also sell firewood, so you don't have to bring your own.
Phone reception
Last but not least, ask if the camping area has phone reception. This is especially important if you're planning on staying in a remote area or working remotely.
Remember that shady trees, sandstone cliffs, and snowy mountains can oftentimes interfere with phone reception, especially at a very remote campground.
You may check for phone reception by visiting the website of Australia's two telecommunications providers:
Camping in NSW: Frequently Asked Questions
Surely, you've got some questions going on in your mind right now. Let us help you answer those questions below.
Is it alright to go free camping in NSW?
Yes, because free camping is legal in NSW. You are allowed to camp on any public land as long as you follow the Leave No Trace principles and do not damage or disturb the environment.
Is it possible to camp anywhere in NSW?
No, you cannot camp anywhere in NSW. You are only allowed to camp on designated campsites, whether they are paid or free of charge. Sleeping in your car is generally allowed, but always check local signage.
What are the ways to find free camping sites in NSW?
You can try different ways to find free camping sites in NSW. You can ask locals for recommendations, look them up online, or check out the list we've provided above.
The WikiCamps app is also very useful. With filters, lists, maps, and a lot of extra features, you'll be able to find a good camping spot more easily.
What should I bring when free camping in NSW?
When free camping in NSW, you should always bring your own water and food as well as firewood if you're planning to make a fire and if it's allowed on the campsite.
You should also pack some basic camping gear, such as a tent, sleeping bag, and cooking equipment. It's also a good idea to bring a first-aid kit and camping gear as well as a flashlight and other camping essentials.
What rules should I be aware of when camping in NSW?
When camping in NSW, you should always follow the Leave No Trace principles to avoid damaging the environment. You should also be aware of fire bans and other restrictions that may be in place, as well as any local regulations.
Always clean up after yourself, and be respectful of other campers and the wildlife. Do not make too much noise, and be sure to camp only in designated areas.
Final Thoughts
Now, it's time to start planning your next trip! Just remember to follow the rules and regulations to ensure that you have a safe and enjoyable trip.
Hopefully, this guide has helped you become more familiar with camping in NSW and some of the best sites to visit. Just remember to come prepared and follow the rules to help ensure a fun and safe trip for everyone involved. Happy camping!